Pages
Recent Posts
Site Links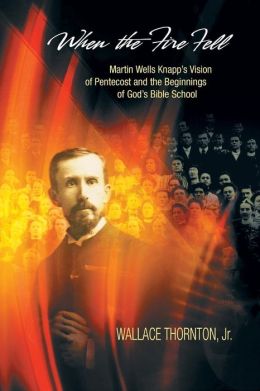 When the Fire Fell: Martin Wells Knapp's Vision of Pentecost and the Beginnings of God's Bible School.  A volume in The Asbury Theological Seminary Series in World Christian Revitalization Movements in  Pietist/Wesleyan Studies.  (Lexington, KY: Emeth Press, 2014), 341 pages.
This volume is published in collaboration with the Center for the Study of World Christian Revitalization Movements, a cooperative initiative of Asbury Theological Seminary faculty….
The author presents his subject, Martin Wells Knapp, in a well-developed narrative interfacing biographical, historical and theological perspectives, designed to elucidate what an authentic manifestation of Pentecost wrought in world Christianity in the early twentieth century…. Thornton's study shows Knapp to be a key figure in the rise of the modern holiness and Pentecostal movements…. – J. Steven O'Malley, General Editor, The Asbury Theological Seminary Series in Christian Revitalization Studies
For all of us who love this school and have a profound respect for its history, Wallace Thornton has given us a priceless treasure. – Michael R. Avery, President, God's Bible School and College
The book is stunning and will become a classic of holiness historiography.  – Donald W. Dayton, author of Rediscovering an Evangelical Heritage and Theological Roots of Pentecostalism
Thornton's sympathetic history brings to life much more than an institution.  The institution focuses the networks of people in a larger story that illuminates the larger course of American Methodism and evangelicalism. – Edith Blumhofer, Professor of History and Director of the Institute for the Study of American Evangelicals, Wheaton College
In the tradition of the Old Testament chroniclers, whose faithfulness to the truth did not allow them to hide the sins of the powerful, Thornton provides a detailed and fair, warts and all history of the beginnings of GBS.… – William C. Kostlevy, Director of Brethren Historical Library and Archives
In this new book, Wallace Thornton, Jr., brings to bear the same analytical skills that made Radical Righteousness such a valuable work…. – R. Stanley Ingersol, Denominational Archivist, Church of the Nazarene
When the Fire Fell is just the kind of in-depth study—intelligent, well-researched, and judiciously-argued—of a key holiness institution that will be welcomed by all who seek a better understanding of the movement. – Mike Hamilton, Professor of History, Seattle Pacific University
A must read for anyone interested in the history of the Holiness Movement and the impact it had on American culture in the first half of the twentieth century. – D. William Faupel, Professor of the History of Christianity, Wesley Theological Seminary, Washington, D. C.
Thornton's several strands of recollection and analysis are skillfully woven together to produce a well-told and richly documented story of personal journey, holiness vision, evangelistic passion, publishing ministries, and sometimes clashing perspectives within the Holiness movement, all leading to educational innovation in Cincinnati that clearly has been honored by the Spirit of God. – Barry L. Callen, Editor of the Wesleyan Theological Journal
Thornton has provided both an interpretation of the history of GBS and a passionate carefully nuanced and strategically documented history of the Wesleyan/holiness traditions in the late 19th and early 20th centuries. – David Bundy, Research Professor of World Christian Studies in the Center for World Christianity at New York Theological Seminary
This book may be purchased HERE.